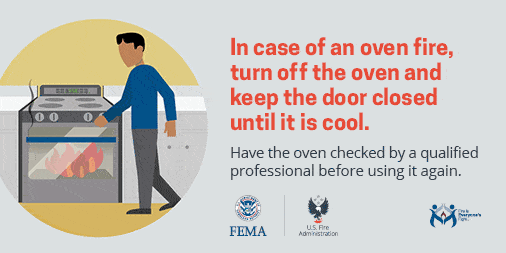 In case of an oven fire, turn off the oven and keep the door closed until it is cool.
Have the oven checked by a qualified professional before using it again.
Some Additional Oven Fire Statistics
Based on 2010-2014 annual averages:
Unattended cooking is the leading factor in home cooking fires.
Two-thirds of home cooking fires started when food or other cooking materials caught fire.
Clothing was the item first ignited in less than one percent of these fires, but these incidents accounted for 18 percent of the cooking fire deaths.
Ranges accounted for the largest share (62 percent) of home cooking fire incidents.
More than half (55 percent) of reported non-fatal home cooking fire injuries occurred when the victims tried to fight the fire themselves.
Frying poses the greatest risk of fire.
Thanksgiving is the peak day for home cooking fires.